I promised this 4 ingredient crockpot fajitas recipe back in August when I shared how I freeze peppers and onions.  This is by far the easiest meal I probably have ever made.  Once you make it, it will be in regular rotation I'm sure!  It's 4 ingredients and the crockpot does all the work.  The only thing better would be if the crockpot also made margaritas.  But I don't seem to have that feature on mine.
First, you certainly don't have to have the peppers and onions frozen.  It works well when they are fresh too.  I just prefer to freeze a few meals worth to minimize prep time.  It's much easier to dump the cut peppers and onions in the crockpot before I head out the door than it is to chop it all the morning of.  But I definitely have gone the fresh route more times than not.
Ingredients
1-1.5lbs chicken breast
3 bell peppers
1 yellow onion
1 packet fajita mix (or make your own!)
Directions
Slice onion and peppers and place in crockpot.  Sprinkle half the seasoning on top.  Place chicken breasts on top of seasoning.  Add the rest of the seasoning.  Cook on low for 6-8 hours or high for 3-4 hours.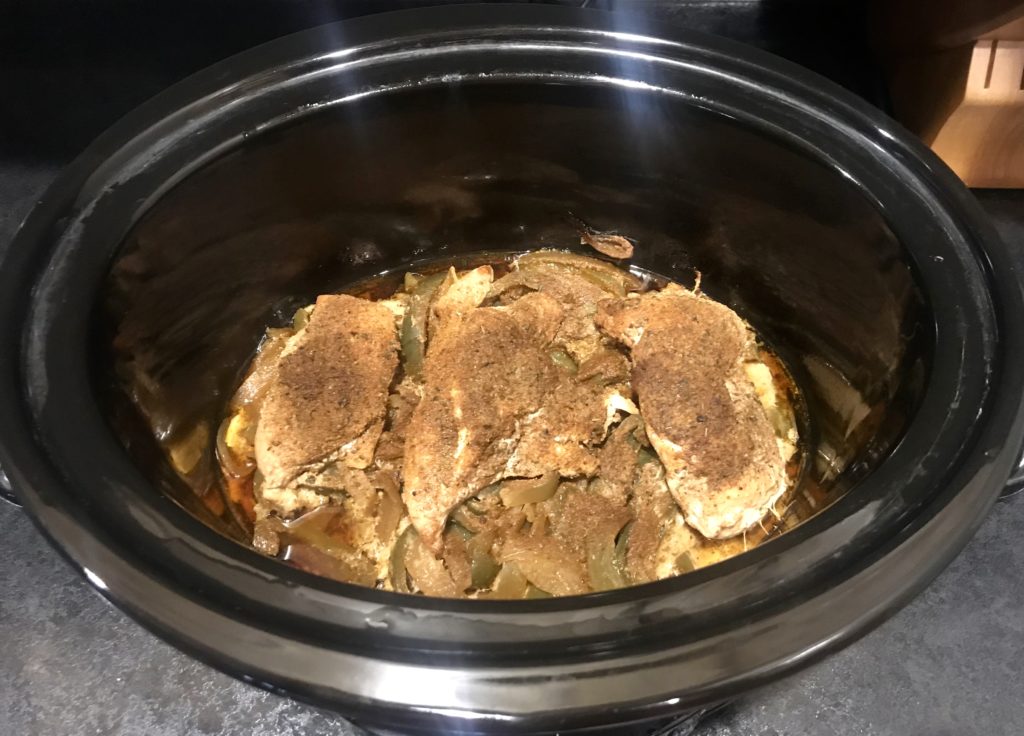 Shred chicken breasts before serving.  I am obsessed with this fork from Ikea for shredding.  The juices from the chicken (and frozen veggies if you use those) keeps the chicken tender.  So tender that I just stab a few times with this fork and it shreds easily.  No need to take the chicken out to shred and put back in!  Winning right there.
Serve it with whatever you like.  I like a little avocado and salsa.  It would also be delicious with my Spanish rice recipe.  I also highly recommend putting some leftovers on toast and topping with a fried egg.  It makes an amazing breakfast!
Happy eating!
Print Recipe
4 Ingredient Crockpot Fajitas
Ingredients
1-1.5

lbs

chicken breast

3

bell peppers

1

yellow onion

1

packet

fajita seasoning mix

or make your own!
Instructions
Slice onion and peppers and place in crockpot

Sprinkle half the seasoning on top

Place chicken breasts on top of seasoning

Add the rest of the seasoning

Cook on low 6-8 hours or high for 3-4 hours

Shred chicken before serving