When you dream of decorating your front porch with swag garland but you have nowhere to swag it, you build a fence.  Or at least that's what we did!
It was on Thanksgiving Eve last week that I decided we should build a temporary fence in front of our front porch so I could add garland and lights to it.  I wasn't sure if Landon would be on board but he took to the idea instantly.  He started looking at panels online at Menards and we found the cutest one for only $30.  Problem was, our local store did not have it and shipping was over $200!  Plus, I wanted it done before Thanksgiving weekend was over.
We simplified our fence plans to just need 4 boards of wood.  Friday, we headed to our local True Value (no Black Friday madness there!) and bought the boards for less than $20.  We already had some white paint and primer mix at home.  I spent a little over an hour painting two coats on the boards.
After a very sad football game Saturday afternoon, we then started to assemble the fence in the basement.  Once it was done, we took it outside and pounded it in the ground.  We finished with lights around the columns and now we're ready for Christmas!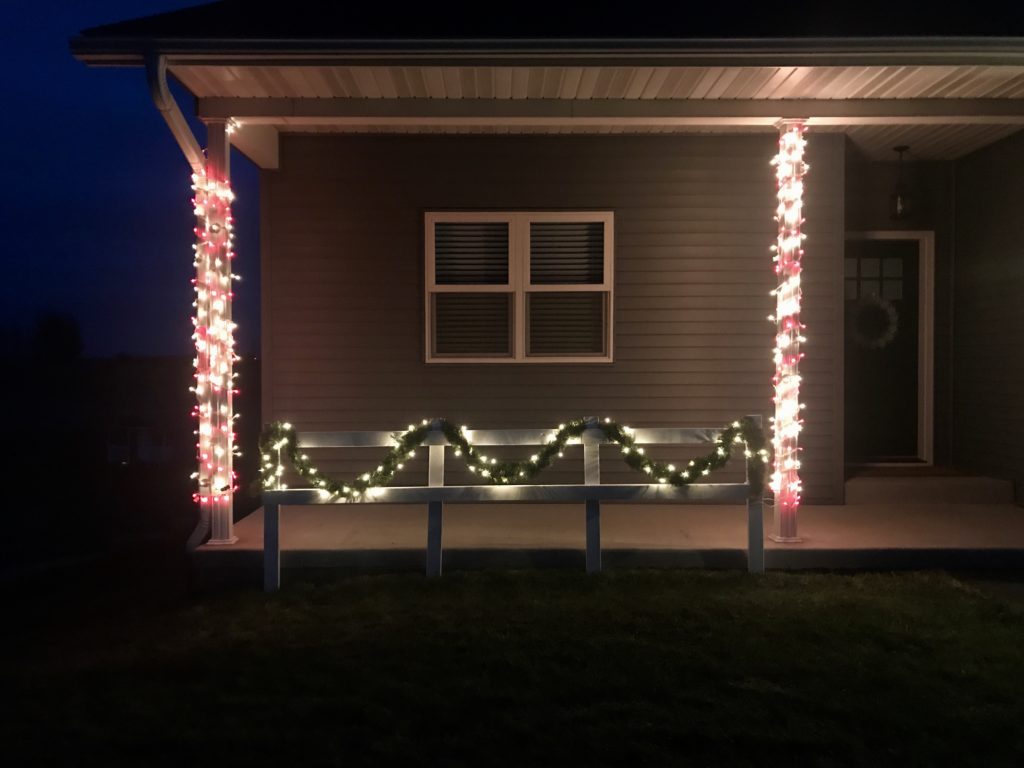 Supplies
2 – 2x4x8 boards
2 – 2x4x10 boards
Paint
Circular saw
Screws long enough to go through two boards
Drill (unless you are Amish, then a screw driver.  But if you are Amish, how are you reading this?)
Instructions
First paint the boards.  We have about 12 feet between our from porch columns so we used the 10 foot boards for the rails.
Landon cut both 8 foot boards in half for the posts.  I wanted three swags so we needed 4 posts.
Next, Landon cut the cut ends to a point so they would pound into the ground easier.  It really doesn't have to be pretty, just some sort of point will work.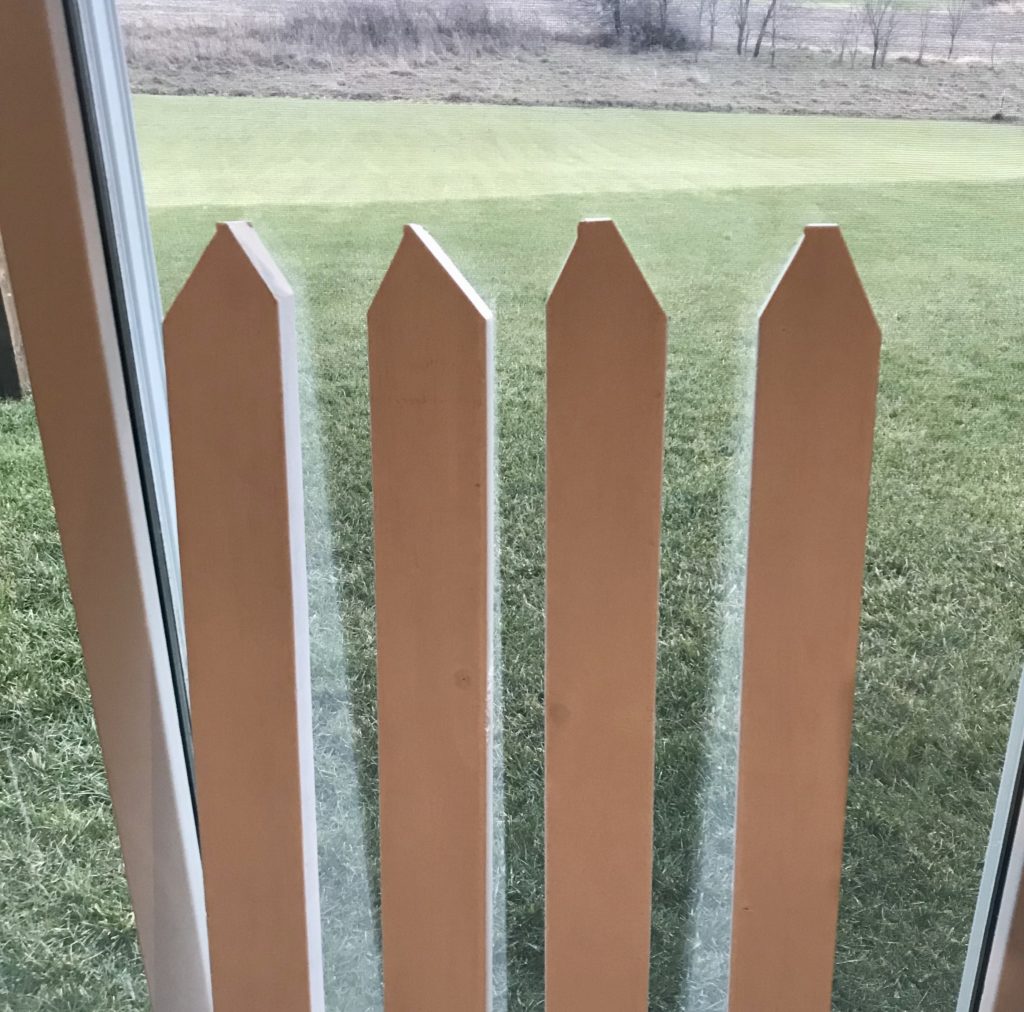 I spaced the rails 3 inches from the top of the post and about 10 inches between each other.  We spaced the posts evenly apart.  Landon drilled in two screws each place the boards met.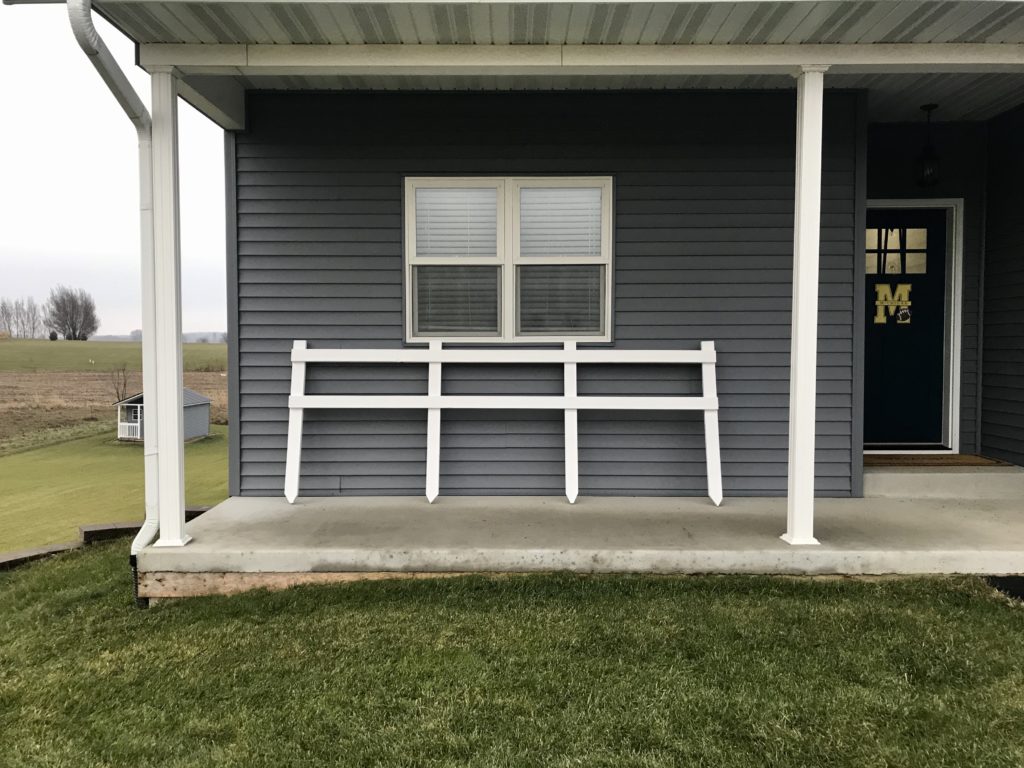 We used a rubber mallet to pound into the ground.  The ground slopes a bit so we had to go further on the right than the left to keep it level.
I then used zip ties to attach the garland.
It's only been a few days but I've enjoyed coming home to the house lit up.  So festive!