Last week was my mom's birthday and she and my dad came to visit.  We decided to have a craft day on Saturday and it was so fun!  We each had our own projects to work on but it was nice to just visit and have some creative outlets.  I had had this DIY jewelry tray idea for awhile and it was the perfect short little project to work on while visiting with my parents.  AKA, it was super easy and didn't take hardly any work!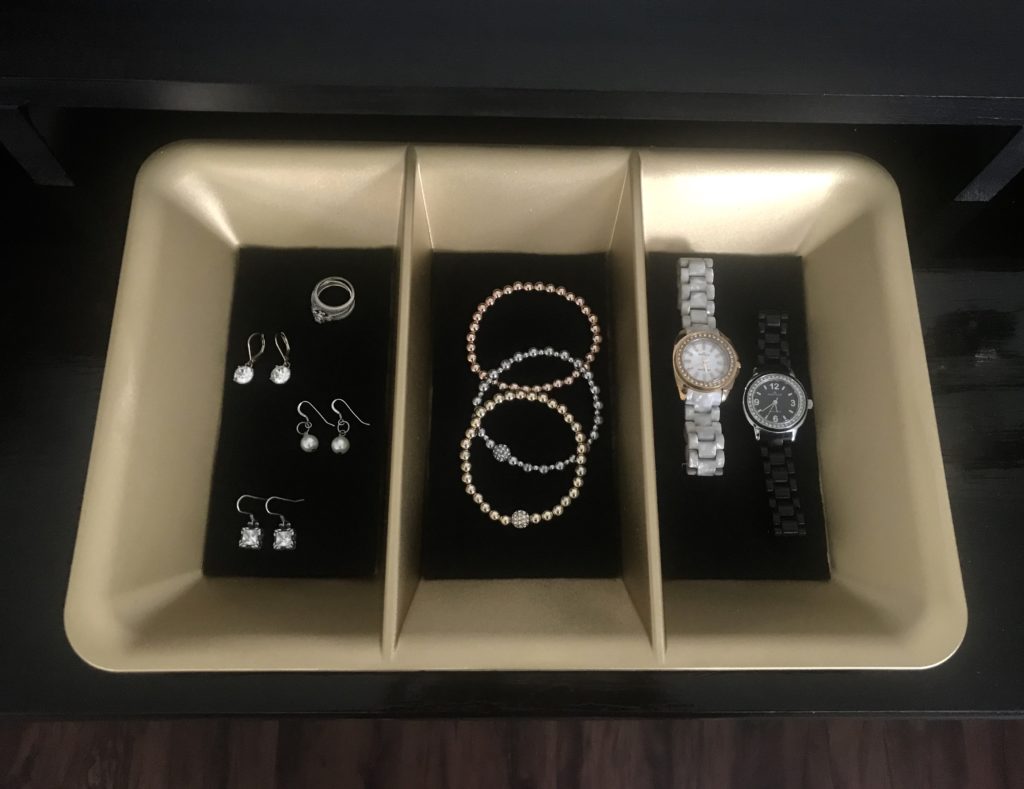 Sometime early last year we had made a TV hutch for our living room TV.  About a month or so later, our TV and DVD player got fried in a storm.  Our new TV had a different leg base that was too deep for the hutch.  It worked out because this TV let us put our devices under it so we didn't need the hutch at all.  Since we had spent so much time trying to get the color right, I just couldn't throw it away.  I stuck the hutch up on top of the other shelving cube unit we have and it sat there until I recently styled the unit.
I didn't know what to do with this hutch.  It then occurred to me it might work on my dresser.  And it does!  I didn't even need to repaint it to match – I guess we're consistent in liking dark furniture.  The hutch helped fill some space between the dresser and canvas I wanted to hang.  It also gave me compartments for jewelry trays to help organize my endless collection.  Only problem, no one makes trays that short!
Enter the Dollar Store.  I was picking up some gift bags and saw all the serving trays by the party supplies.  It was there that I found this three compartment one and the measurements would fit!
Supplies
Painter's tape (optional)
Instructions
Since I new I would be lining it with felt, I decided to paint the inside rather than the outside.  I wasn't sure if there would be any overspray so I taped the outside edges with painter's tape.  After that, I spray painted the tray gold with some paint we had on hand.
Once the tray was dry, I cut felt to fit the compartments and stuck them in.  I didn't even glue it down but I may in the future.  For now it's working just fine.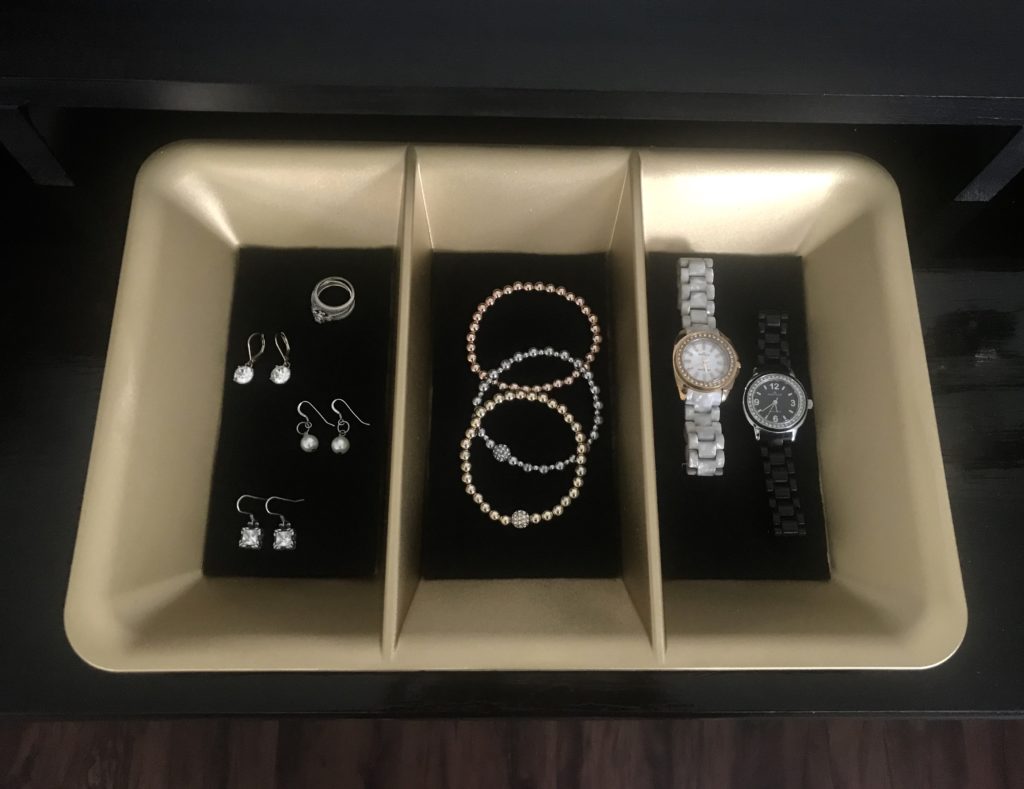 So easy and so inexpensive to make!  I just need to figure out what to do for those smaller sides next…
P.S. I know a lot of people may not have their moms around anymore but if you are lucky enough to still have yours, you need to plan a craft day together.  It's the best. ?
SaveSave
SaveSave