I did not expect to MIA on here for the past three weeks!  Three weeks ago we had a 500 year flood hit our area.  It broke all the previous flood records set 10 years ago.  Our house is high up on the ridge and stayed dry but so many people we know lost a lot, some lost everything.  Then exactly 7 days later, a 100 year flood came and caused more damage.  During that same week, our modem got hit by lightening and we found ourselves dry but without internet.  I know, first world problem at its finest.  Anyway, between all that chaos and covering for coworkers who were affected, blogging just wasn't high on the priority list.
Onto the blog post…  You may have noticed that I have never shown the space between our dining area and living room.  That's because my Ikea shelving cubes were a little chaotic.  I don't think they were as bad as I felt they were but it sure wasn't pretty.  And you can see the cubes all the way down the hall from our front door.
I started by adding a couple more fabric bins to create what my dad would call a "neatness."  Aka, it looks organized but you have no idea what is in those bins. ?  And yes, they are on my to do list to organize better.
I then decided to try turning all the mismatched hand-me-down cookbooks around.  And I was instantly smitten.  Seriously, all the bold colors before were just too much for me.  The white pages have such a more calming affect on me.  And as far as needing to find a particular one, I placed them in strategic spots so I know where the favorites are.  But most of these I try something new every time so selecting at random isn't a bad thing.
I had always pictured a giant hutch in this space.  Whether that will have open or closed shelving above, I don't know but I figured I could have a bit of a hutch feel until we upgrade our furniture.  The white mugs were Landon's grandmother's and they are just too pretty to be hidden in the cupboard.  I used an old media box from Ikea to place the back row on and give it some height.
The teal fish pitcher is a Gurgle Pot and it is the funnest pitcher to pour.  It makes the coolest sound!  It comes in a ton of colors too, so perfect for any decor colors.
The white pitcher is a hand-me-down Fiesta Ware from my mother-in-law.  The don't make this shape anymore so I guess it's vintage!  The decorative balls are from Hobby Lobby.
Lastly, I knew I needed something big and teal to offset the other cubes.  I had given my mother-in-law the Fiesta Ware chip and dip bowl set for Christmas a couple years ago and she is always using it for so many different things besides chips and dip.  It made me think I needed one for serving salads and such that would be better from a bigger but shallower bowl.  So I snagged this beautiful teal one and found a bowl stand on Amazon.  My cubes were complete!
I knew I wanted to have large photos from our wedding hung above the shelves.  It was a little difficult to pick between all of them, but I love the two we chose.  The canvas in between was a wedding gift and I felt it was perfect to make a trio up on the wall without having all pictures of us.  The vases and the plate they sit on are from CB2 and are an amazing price for how beautiful and simple they are.
And to end the post, here are a bunch of photos of the shelving cubes and wedding photos from different angles of our great room.  I feel like the room is finally complete!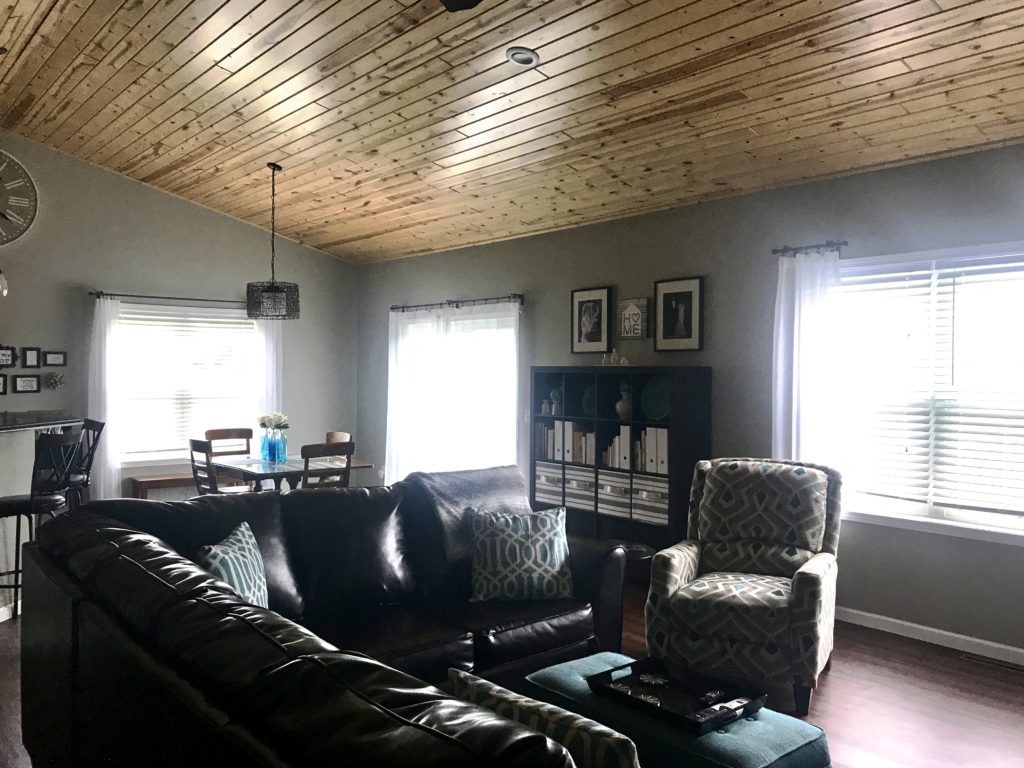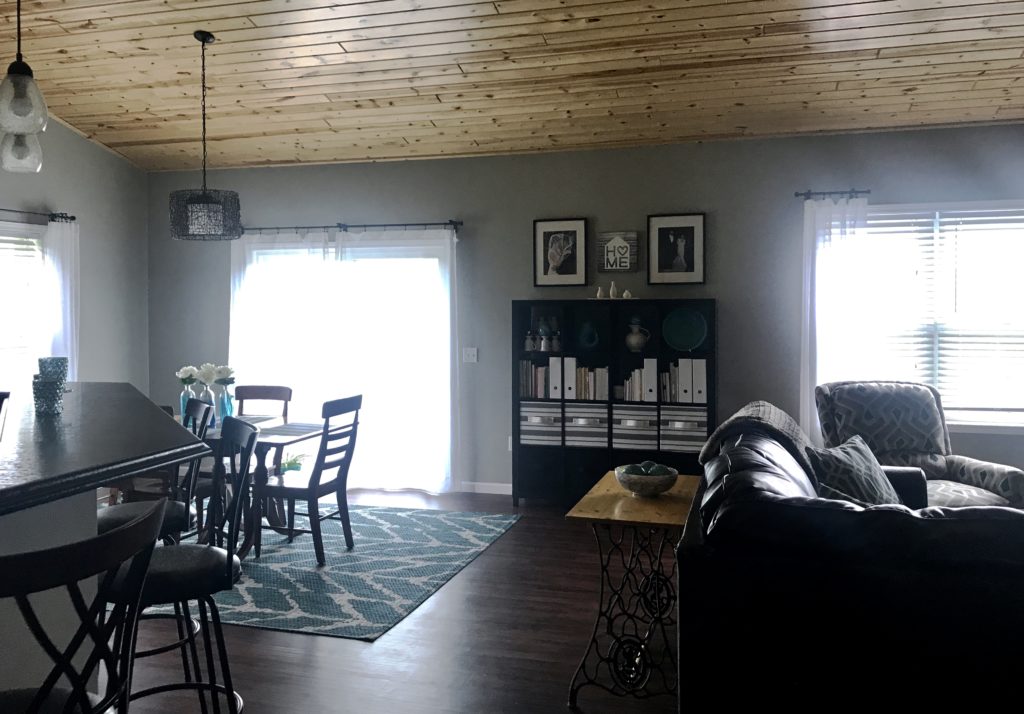 SaveSave