Three years ago this month we broke ground and started the process of building our house.  As I've mentioned before, Landon general contracted for us with no prior experience.  We learned a lot on our own!  I've never really gone into the design and construction of our house before but we have so much knowledge I'd like to start sharing.  First up, design features in the kitchen.  Below are the four features I am so happy we put into our kitchen design.  The best part?  That these features can be added to an existing kitchen right now with minimal expense and effort – no need to wait for your next house!
Soft Close Cabinets
These might be my most favorite thing ever.  I hate excess noise.  I even struggle when people close doors and don't turn the knob before doing so, so it causes the horrible "click" sound.  Cupboard doors slamming shut are equal to nails on a chalkboard to me.  But with soft close doors, they catch themselves and close slowly and quietly.  It's a beautiful non-existent sound.  Beware though, once you get them you forget not everyone has them.  For instance, when we visit my parents we usually give ourselves a scare the first time we close a cabinet door in their kitchen.
If you don't have soft close doors, it's actually really easy to convert the doors you have.  All you need are some soft close dampers to attach to your existing cabinet.  For as little as $2 a door, you too can have a beautiful silence with every door closing.
Pull Out Trash Cabinet
I used to have an apartment with one of these and I thought it was so smart.  How could I not design our kitchen with one?  Our Amish friend made all of our kitchen cabinets and I specifically asked that the pull out trash cabinet contain two bins.  One for trash and one for recycling.  It works perfectly for us and the bins are not so big that anything gets too smelly in confinement.
If you search Pinterest for pull out trash cabinet DIY, there are a lot of different options to make your own.  Home Depot also has a lot of options to just put inside an existing cabinet.  And if you can't forego the cabinet space, you can always try a tilt out trash can to look more like nice furniture than a garbage receptacle.
Baking Sheet Organizer
I don't really bake much but cookie sheets can be used for sheet pan dinners too.  When building our house, I knew I would not be able to fit all of our baking stuff in the oven drawer so I had this pull out organizer made to file everything vertically.  We actually rarely pull it out of the cabinet because it's easy enough to still access baking sheets, pizza pans, and cutting boards regularly but it's a nice feature to have if you can get it.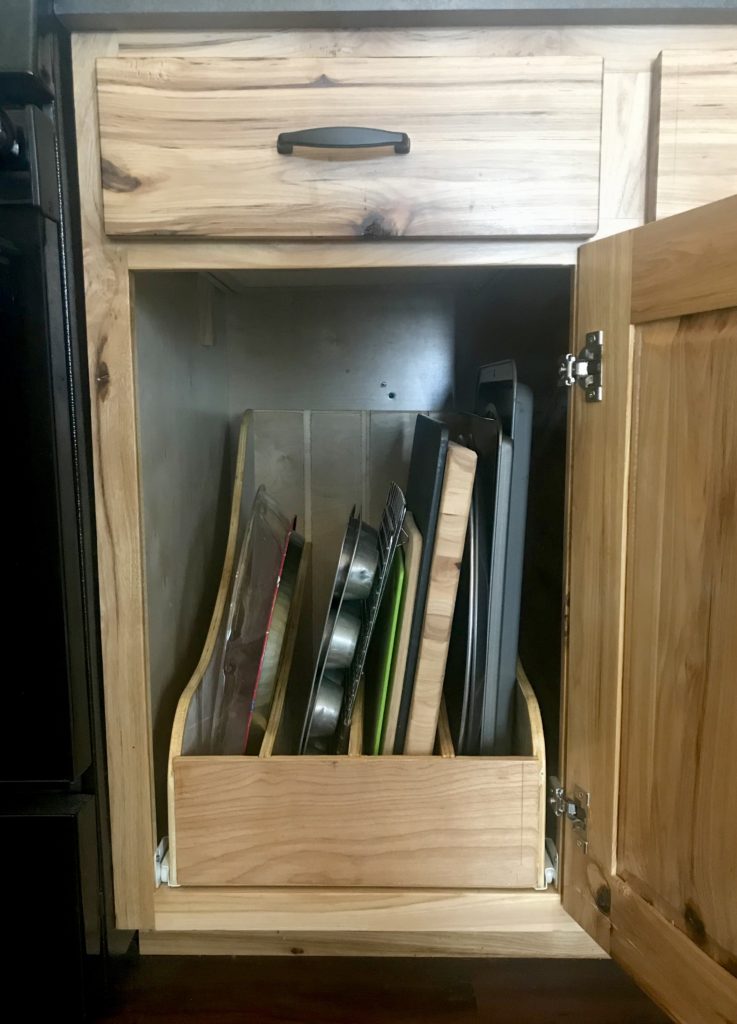 I've seen a lot of contraptions to sort baking sheets vertically at the Container Store (like this one that pulls out or this one that doesn't).  I've also seen people use office filing holders or place extension rods vertically as a divider.  This could be such an inexpensive update to be more organized!
Wine Rack
I completely understand that this is not for every lifestyle but it works for the majority of people we know.  It was a little weird to ask an Amish man to build us a wine rack into our upper cabinets but I don't think we were the first to do it.  I've also learned since then that some Amish make their own wine!  Anyway, I visually enjoy this feature because it breaks up the solid cabinet doors.  Sure, you can have glass doors but then you have to make sure everything is neat inside that cabinet.  Wine bottles naturally lay in the lattice neatly.  And it's way easier to pull out a bottle.  You can even grab one quietly this way without soft close doors. ?
So those are the four features I'm glad I have in our kitchen and would totally put in the next kitchen if we ever did this all over again.  Hopefully the ideas on how to update your existing kitchen inspire you to think outside the box with whatever features you might be saving for your next house and can do in your current one.  And if you are building a new house or remodeling, maybe think these ones through.  You might love them as much as we do!
SaveSave
SaveSave