It's done!  Our laundry room has cabinets and a bench and shoe storage!  The only thing missing is a self running washer and dryer but I don't think those are on the market.  Anyway, we didn't complete this room when we were building our house to save a little money but I also wasn't sure I could predict our needs until we used this room to enter and exit our home every day.  Last March I shared the three design layouts we were considering for this space.  And now it's a reality!
Our Amish friend who built our kitchen cabinets also built these for our laundry room.  We actually got the bench last September and I painted one coat of paint and then it sat in our basement for a few months.  I've never painted furniture and I hope I never have to again.  Not that fun!  Landon and his dad picked up the cabinets on New Years Eve and thanks to an ice storm the following week, they both were around to paint them.  It took another week and a half to have an open weekend to install everything and since I wasn't planning on the painting going so quick, we didn't have any door pulls ready.  But now it's ready to share!
Bench
It's been fully done for a couple weeks now and I am in love.  With all the snow we've been getting the bench is a dream come true to set grocery bags on when unloading the car.  We even got little baskets to put our hats, mittens, scarves, and my purse!  We decided to just use hooks above the bench for the coats we use most often.  The rest of our outerwear is in a coat closet by the front door.
Tall Cabinet
The tall cabinet is actually a broom cupboard behind the tall doors and the upper half now gives home to paper towels, toilet paper, and miscellaneous cleaning items.  It is amazing to have a place for our Swiffer, steam mop, and vacuums!  (Don't worry, we still love and use our robot vacuum.)
Above the Washer and Dryer
Because the wall behind our washer and dryer is a supporting wall, we weren't able to set the dryer vent inside so the machines could be more flush against the wall.  I had found ideas on Pinterest to create a shelf like we now have but when it was communicated to our builders, that detail got lost in translation.  We split the original shelf and got new brackets to hang just above the machines.
Instead of always pouring out of that giant vinegar bottle, I got this cute beverage dispenser to use instead.  It honestly works better than I thought it would!  I wanted to make sure I had a basket to store the wool dryer balls in when Landon washes his hunting clothes with scent-free stuff.  But I couldn't decide between the two that matched the ones for the bench so I kept them both!  The short one hides the cup I use for vinegar as well as any money or chapstick I find when doing laundry. ?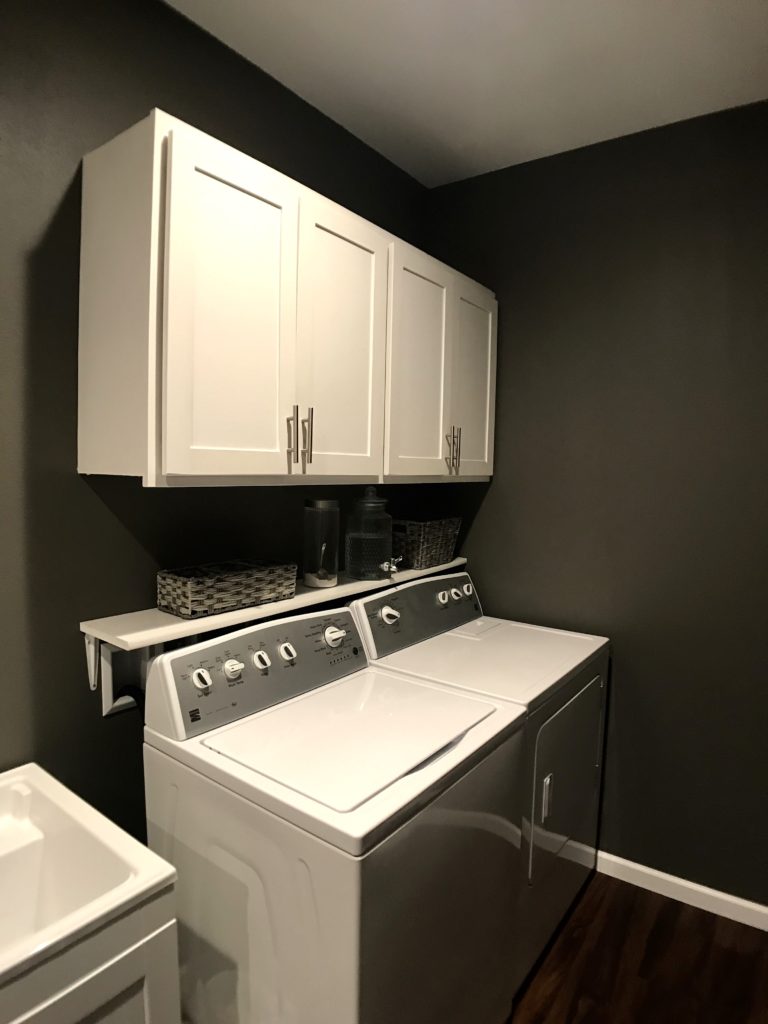 Lastly, the cabinets above store my extra containers of laundry detergent and vinegar.  It also houses the rags we used to keep under the sink.  We cleared that space out to hold more of my tall boots.  If you can't tell, I am not a fan of wearing shoes in the house, so they all get removed in this room and every pair has a home!
Before & After
It's been amazing to have such a functional space after just dealing with the "before" for far too long.  We do plan on making a few more updates in here as time goes by.  We are undecided where exactly to hang the old mail organizer we had and I would like to put a mirror in here as well.   You know, one last check as we walk out the door. ?