Have you ever had a membership to a club store? We became Costco members last December and are a little obsessed!  Now that we've gone many times, I thought I'd share our favorite Costco buys we purchase on repeat.
Over the last few years, we've tried to cleanup our diet and switch to organic when possible.  One of the main things we find important is organic meat.  Our small town doesn't have a ton of places that carry organic chicken and the price per pound was pretty high too.  Costco has organic chicken breasts for $4.99/lb.  We did the math and if all we bought was our chicken needs at Costco, even after the membership fee we would save a few hundred dollars every year!
Now that we're members, we've explored the other perks and have found other great deals too.  Below are all our favorite Costco buys.
Organic Chicken Breasts
Like I said above, this was our entire reason for signing up for a membership.  It's always staple on our list!
Franz Gluten Free Bread
Don't tell Landon this, but he's a very picky bread person.  He went gluten free a few months ago and has felt so great from it but he misses his bread.  I've purchased every kind available to us locally (which is a lot) and he says this one from Costco is his favorite.
Cauliflower Rice
I've been making cauliflower rice and mixing it with regular rice to add more veggies to our plates for a couple years now.  I love that this is one bag that has 5 smaller bags inside.  Our local stores stock is often hit or miss so buying cauliflower rice in bulk has been great!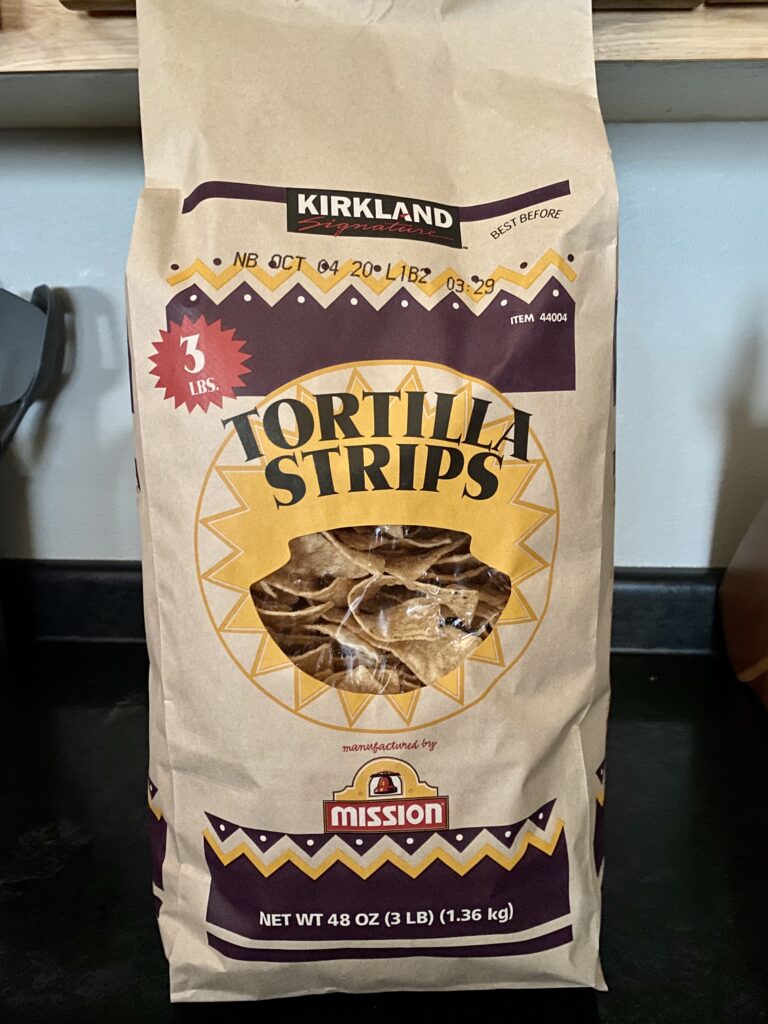 Tortilla Chips
I once was witness to a conversation between Landon and someone from our church talking about how every meal has to have a crunch.  Their love of tortilla chips is strong!  This bag is under $4 and is four times the size of most bags at regular grocery stores.
Almond Flour
I bought this on a whim when Landon was first considering going gluten free.  I kept finding low carb recipes on Pinterest for it.  While I have yet to try any of those recipes, having this on hand has been a life saver!  Need bread crumbs for meatballs or salmon patties?  Almond flour is the gluten free substitute!  I even found an awesome gluten free pancake recipe that uses almond flour too.
Nuts and Trail Mix
We always keep a container of trail mix in our golf cart.  I also love getting de-shelled pistachios.  And the cashews are great for making cashew creamy pasta or dairy free ricotta cheese.
Starbucks Nespresso Pods
I wrote last November how much I love my Nespresso machine.  And my love of Starbucks runs deep.  The best part?  These pods are cheaper through Costco than ordering straight from Nespresso but still recyclable.  I like the higher intensity ones for iced lattes and the lower intensity for hot lattes.
Hummus
I think I could live off of cucumbers and hummus for an entire week and still not be sick of it.  When I found these single serve hummus cups I was so excited!  I started bringing them to work almost daily.  Now that we stay home, they still are my favorite hummus as far as taste goes too!
PB Fit
Remember back in the day when everyone was obsessed with PB2?  This is basically the same thing.  It's powdered peanut butter because most of the fat has been removed.  And mixed with a little water, it turns into a great lean protein peanut butter.  I then make it a little less healthy and throw a handful of chocolate chips in but gosh it's a good snack that way!  Oh, and occasionally I'll use this in smoothies too. 🙂
And that's our favorite Costco buys we've discovered so far.  Maybe I should check back a year from now and see if I have any new ones…