I have a confession.  I stopped doing my month long meal planning for a short time.  We were in a recipe rut and I just needed to try new things!  When I found a recipe on Pinterest, I printed the recipe out to follow and it was a game changer.  I started printing out all the recipes I regularly make right before making them.  And the pretty recipe book I'd been trying to make for the past two years, came together so effortlessly.  Since we are all home and cooking a lot more while practicing social distancing, I figured this was an easy project anyone can pull together over the next few weeks.
Why Print Your Recipes
I mentioned above that printing our the recipes was a game changer.  It really was.  I no longer had to worry about my screen saver kicking on, my tablet going black, or someone calling my phone.  The recipe was right there, on my counter ready whenever I needed to reference it.  It wasn't in a bulky book I was worried about ruining.  I slid the paper in a page protector and if that didn't protect it, I could always print another.  Surprisingly, there is so much relief in not have dirty fingers trying to wake up whatever device I was using, that I'm actually enjoying trying new recipes more than ever!
Why It Doesn't Have to Be Perfect
Like I said, I have wanted to make a beautiful recipe book of all our favorites.  Each page would have the same colorful formatting and they'd all be organized by type.  But the best recipe book is the one you can easily add to and update without spending hours trying to make everything match.  To be like the food bloggers, I even added recipe cards at the end of my food posts.  And just like the food blogs, we all have a Print Recipe button.  Print, stick it in a page protector and stick it in a binder.  Done.  Some recipes weren't found online.  Coworker email you their dip?  Print out the email.  Made your own recipe?  Type it up, no need to get fancy, and print it.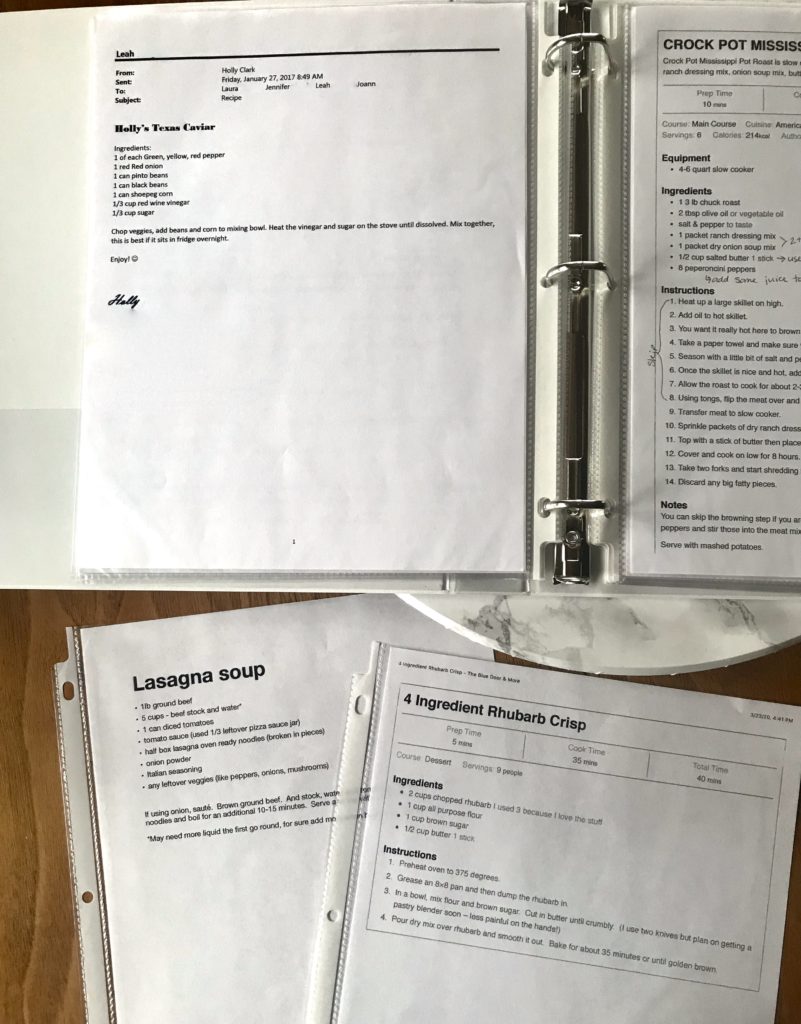 I still have the best intentions to sort my binder by recipe type (breakfast, sides, desserts, chicken, beef, fish, etc).  But I actually like keeping recipes I use together.  Like the roast recipe that uses a can of cream of chicken soup.  And I have a recipe to make my own cream of chicken soup.  I put them both in the same page protector so when I finish the first one, I just flip to the second.  It also helps to pull a recipe out and then stick it in the back, just to keep a rotation but also limit repeating the same things all the time.
And lastly, print them out and write your adjustments right on it.  I found these great chicken tenders that use Everything But Bagel seasoning.  I don't have a Trader Joe's nearby, so I just wrote the Everything But Bagel seasoning ingredients right on the recipe.  Some I use less sugar or butter and I make note of that.  Or if I don't bother searing a roast before slow cooking it.
Why It Could Save You Time
This reason is actually the whole purpose behind wanting to make a recipe book in the first place.  And it would have been really handy last year when I was on crutches.  Someone else besides you can do the cooking!  Landon likes to tell people I'm a good cook.  Guess what, he can be too.  It's all in this 3-ring binder.  So if this quarantine ever ends and you need your husband to start dinner before you get home, the steps are right there for him to follow!
Sometimes the best projects and most used things are the simplest to make.  Each night you make dinner, just print out the recipe and start your own recipe book.  I made a simple cover using Canva (I used them for my baking conversion chart too).  But you could paint, color, and/or enlist your kids to help create a cover.  Creative outlet and feeling of accomplishment during this time can make a big difference.