Remember when I made earrings inspired by Joanna Gaines?  Well there is a new girl on HGTV that has inspired me to make the perfect winter earrings!  Heather Fox of the show Stay or Sell had multiple pairs.  I lost count at how many different ones she had when their series premiered at the end of the summer.  But they are so easy to make we all could have multiple pairs!  I opted for white pom pom earrings this time.  A little like a snow ball and a lot of contrast with my dark hair.  Make yourself a pair or two and then make some for gifts!  I got a lot of compliments when I wore mine to work a couple weeks ago.  So on to the tutorial…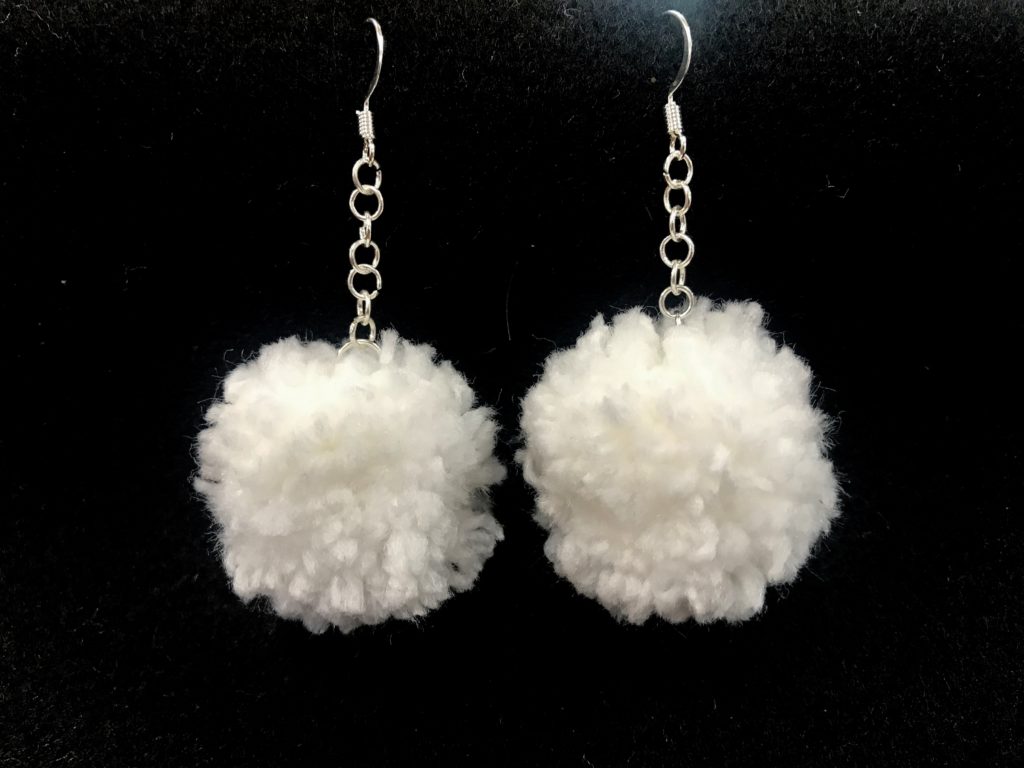 DIY Pom Pom Earrings Supply List
A fork (yes, really!)
Scissors
Directions
Start by wrapping the yarn around the tines of the fork (thanks for the correct terminology Google!).  I wrapped mine about 40 times.  Then take a cut piece of yarn and wrap around the middle twice before tying off.
You'll want to slide it off the fork to make it easier to tie it tight.  Then open one of the 6mm jump rings and thread it through the yarn you just tied off.  Leave the jump ring open, it will stay put.
Next, take some scissors and cut the loops around the pom pom.  It won't be perfectly round so you will want to trim all sides.  It's also safe to trim the yarn you used to tie it off.  Once you get it to a rounded shape you are happy with, set aside for the next step.
Taking another 6mm jump ring, create a chain with about seven 4mm jump rings.  Attach the end 4mm jump ring to the earring hook.  Attach the 6mm jump ring chain to the 6mm jump ring hidden in the pom pom.  Repeat all steps for the other ear!
Depending on your face shape, you may want to create a longer chain with more 4mm jump rings.  I played around a bit with mine and felt this length was good with me.  A longer face might prefer the earrings to hang down more.
Enjoy your DIY pom pom earrings!