Pardon the play on words, but the basement bathroom is complete – kind of.  It is fully operable, just missing some things to make it feel complete.  We have all the plumbing, we have all the walls and ceiling, the vanity (actually two of them).  But it feels a bit like a model home in that it's missing some important things like a mirror, soap dispenser, and other decor accessories.  Hence why it's one shell of a bathroom!  All the missing components will come with time but come on and check it out how it is now!
A Timeline of Sorts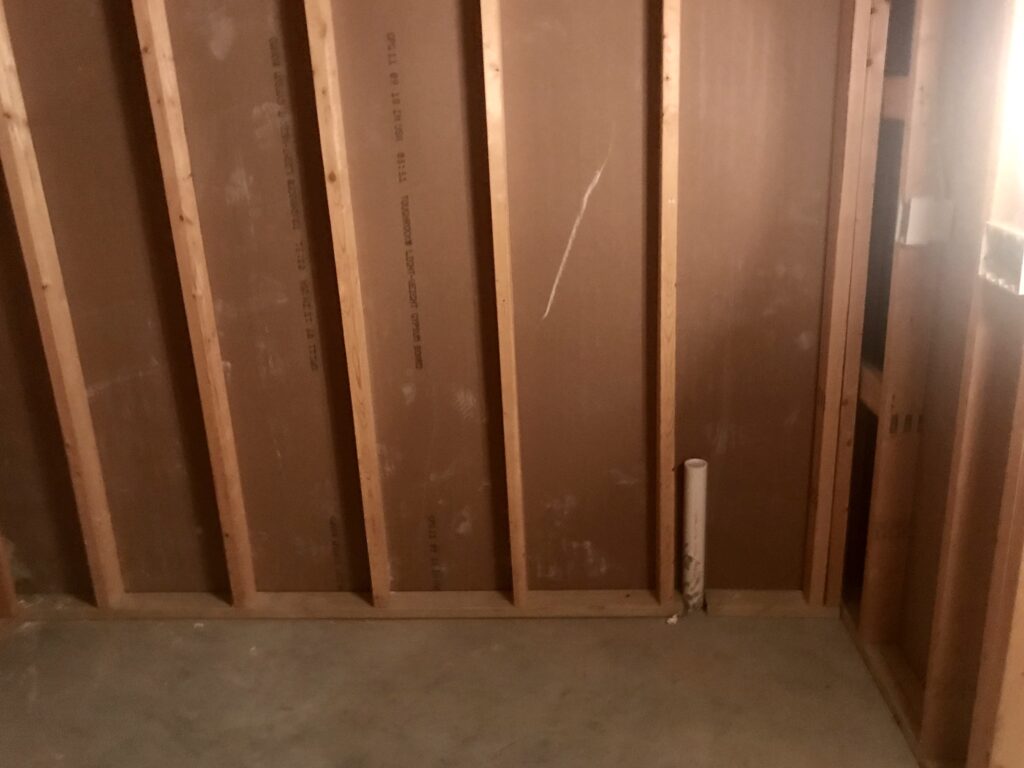 In September, this room really was a shell.  Studs and pipes sticking up a foot from the ground was all that you could see.  Back in October I shared the mood board for this space after we ordered the shower/tub.  That was installed in November.  Drywall was worked on in stages around plumbing jobs and finally texturized and painted in early January.  The electrician finished the outlets, switches, and installed the vanity light, and flooring got installed at the end of the month.  In February we installed trim, the vanities, and the final plumbing included the sink and toilet.  And then COVID-19 hit and delayed the ceiling.  You wouldn't think that's a huge issue but the ceiling was needed to truly light up the space and hold the exhaust fan.  Well guess what got put up last week?  That's right, the ceiling!
Here are some pictures of the space.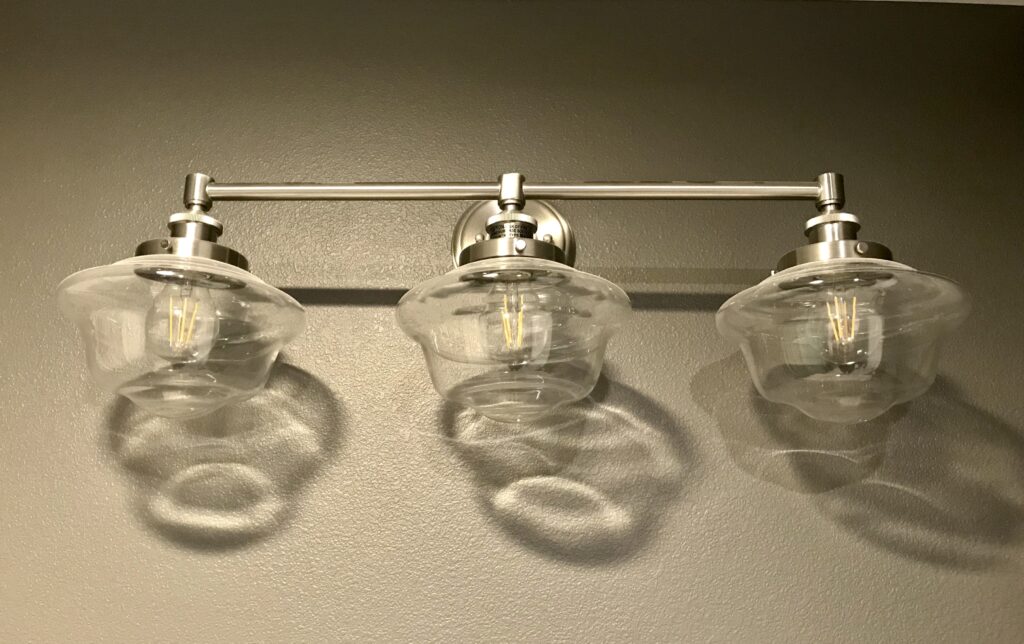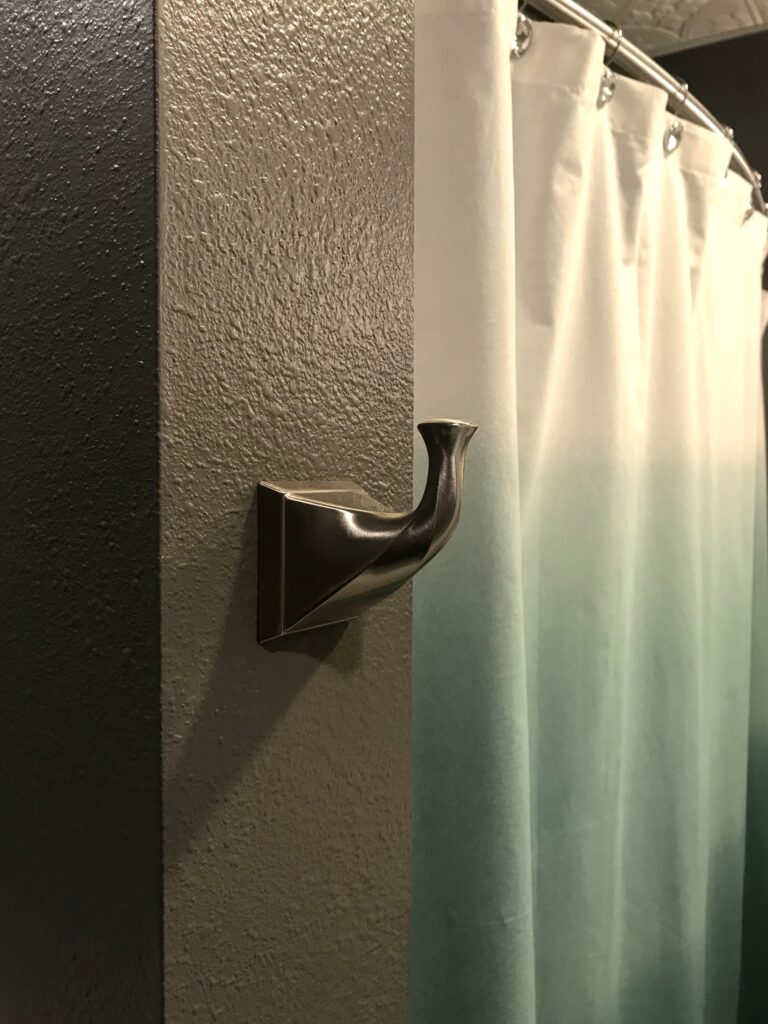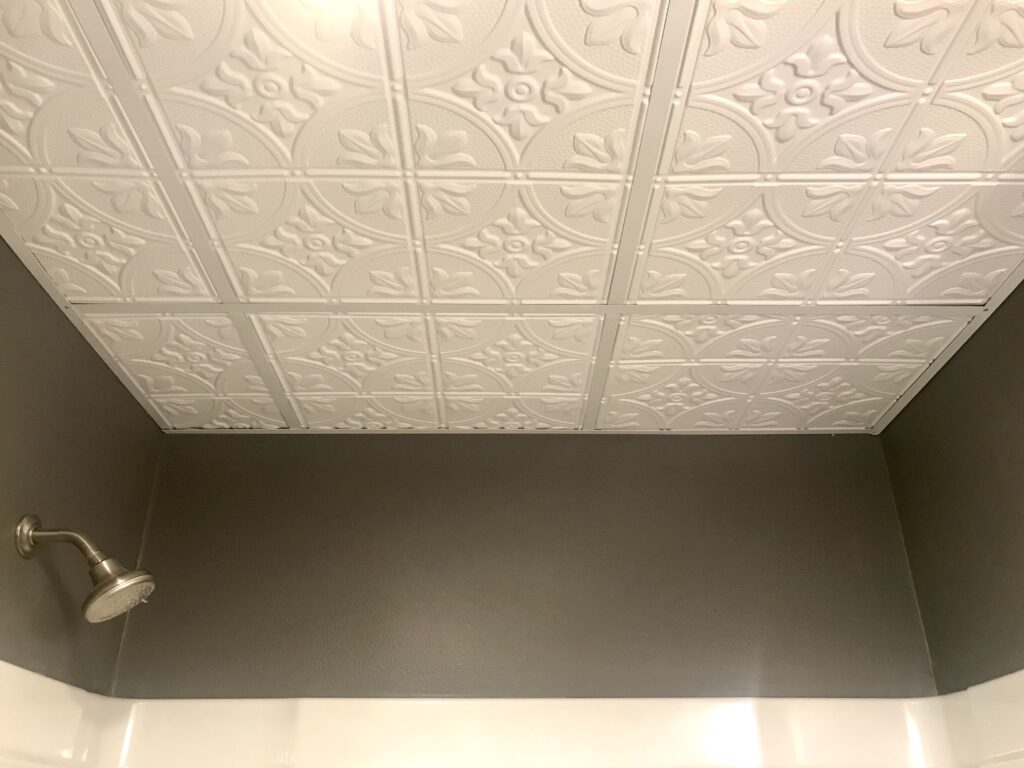 Why Two Vanities?
It's an odd shaped bathroom and the small vanity without a sink was supposed to be an enclosed closet.  If you've ever lived apart from family, you know what it's like sharing a bathroom with your parents, aunts and uncles, cousins, etc, at family get-togethers. It gets a little crowded!  The majority of our family lives over 3 hours away.  The biggest reason to finish off our basement is so we can accommodate them!  A second vanity will give someone space to get ready when someone else needs the sink.  I also opted for these vanities with open shelves so people can keep their stuff in the bathroom but off the counter.
My Favorite Part
There is one part of this bathroom that is for me though.  And that is the soaking tub.  After taking these pictures the other night, I took my first soak and it was amazing to have my shoulders and knees underwater at once!  I'm 5'7″ so that doesn't work in many tubs that aren't free standing or big jacuzzis.
What's next for this space?  A lot actually!  I have a mirror DIY up my sleeve and an art deco inspired accent wall.  Plus some decor to tie it all together.  Stay tuned!  And if you need me, I might be dreaming about this space from the tub. 😉