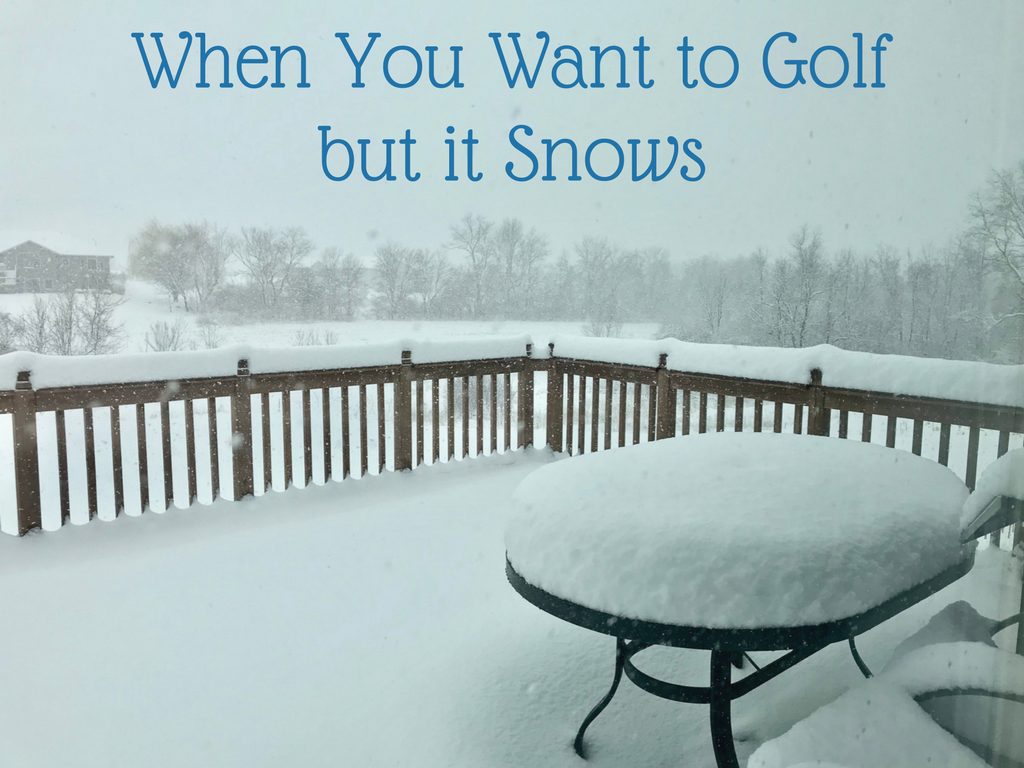 We've been itching to golf since we first got a tase of 50 degree weather in March.  But Mother Nature seems to have other plans.  Plans that include a foot of snow on April 18th.  A few days after ice and snow over the weekend.  ?  Hissy fit much?  Anyway, what do you do when it's winter outside and you want to golf?  Bring the golf inside!
We have this indoor putting green that we typically keep out all year round.  It's so easy to go and take a few putts when we walk by it or while dinner is simmering.  We also have made some putting games kind of like HORSE and PIG typically played in basketball.  It's not as challenging as a real green with breaks and varying speeds but it's not like you don't miss the hole from time to time.
When we don't feel like putting and need a break from intense competition, we will tune in to watching golf.  We do enjoy watching PGA tournaments but I'm actually talking about golf movies!  I think the best known ones are Caddyshack and Happy Gilmore.  And perhaps you've heard of Tin Cup (Landon's favorite) but have you heard of the ones below?
The Greatest Game Ever Played
This is my absolute favorite (and it's not because Shia LaBeouf stars in it).  It's based on a true story from 1913 and is just a great feel good movie.  If golf had a Cinderella story about rising above your social class, this would be it.  Plus with lines like, "Read it, roll it, hole it" and "Easy, peasy, lemon squeezy," said by Francis Ouimet's kid caddy, you can't help but smile.  The creative filming is enough of a reason to watch even if you don't care about the game.
Bobby Jones: Stroke of Genius
Ever heard of Bobby Jones?  He's the only golfer to ever win the Masters, US Open, British Open, and the PGA Championship in the same year (1930).  This movie goes through his life from a young boy to winning the Grand Slam.  It's also the first movie that was able to film on St. Andrews Golf Course!
The Legend of Bagger Vance
Matt Damon and Will Smith?  What?!  Lots of talent to start off right.  This movie is not based on a true story like the other two but is about a fictional WW1 veteran that is talked into golfing an exhibition put on by his long lost lover.  Will Smith's character, Bagger Vance, is his caddy who helps him find his swing again.  It takes place in Savannah, Georgia, so you know there is good 'ol fashioned southern charm in it.
Hopefully by the time you've putted to exhaustion and watched all of these, the snow will have melted and the courses will be open!  For now, the real trick is to make sure all these things don't make the itch to golf worse.  ?
P.S.  If you are not a golfer, I list ideas for snow days in this post.
SaveSaveSaveSave